Yosemite Road Woes, Waterfall Whoas!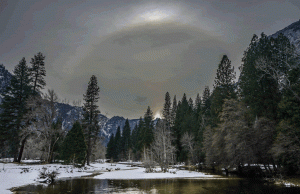 Winter Weather In Yosemite

View Photos
Yosemite National Park, CA – Park officials have bad and good news for Yosemite Valley visitors.
First, Big Oak Flat Road from Crane Flat to Foresta remains closed due to a significant road failure. According to Yosemite National Park spokesperson Jamie Richards, recent, intense rains led to extensive ground saturation that started loosening soil in a roadway section, parts of which now, despite attempted repairs, are sliding apart.
As engineers working, both with the national parks and federal highways departments continue to assess the issues, Richards says she hopes more information might be available later this week, In the meantime, the public's continued patience is appreciated.
Tuolumne and Merced groves, along with the Crane Flat and Hetch Hetchy areas continue to be good winter attractions to consider, Richards emphasizes. For those adamant about visiting Yosemite Valley, Highway 140/El Portal Road remains the only open access route. She stresses that chains and snow tires are currently necessary and motorists should be well-prepared for winter driving conditions as well as dirt and debris in the roadways.
So where is the good news? Well, Yosemite's very wet winter has set up the park for an exceptionally memorable year for waterfalls and wildflowers.
Richards, who moved to Yosemite last July says she is awestruck by the falls that are now roaring, full-tilt. For the next two to four months park officials project that visitors will continue to enjoy dramatic water shows. Currently, as Richards confides, "We are seeing seasonal waterfalls that people have not seen in over 20 years – and there are water channels over the granite cliffs that no one has seen before."