Big Turnout For Summerville's Quarterback Club Dinner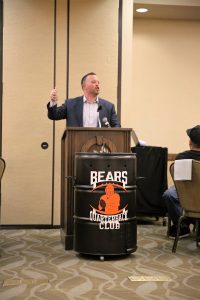 Angus Reid Speaks At Summerville's QB Club Dinner

View Photos
Tuolumne, CA — Former Canadian Football League star Angus Reid brought his message about the importance of youth football to the Summerville Bears Quarterback Club's 2017 kickoff and sponsor dinner.
Around 180 were on hand for the dinner at the Black Oak Casino Resort on Friday night. The Quarterback Club raises money to help benefit the Summerville High football team's operations. Reid was interviewed, along with the club's president Ron Roberson, during this past Wednesday's KVML Newsmaker of the Day segment. Reid played 13 years with the BC Lions in the CFL. While playing offensive line, he was a team captain, three-time all-star and two-time Grey Cup Champion.
Now retired, Reid regularly tours North America speaking out on such issues as violence against women, bullying, and the importance of health and fitness for today's youth.