Will It Snow This Weekend?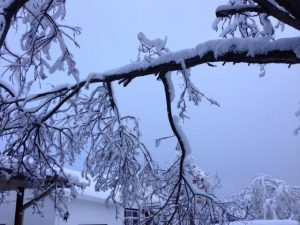 Snow on branches

View Photos
A couple of relatively weak weather systems are forecast to drop southward through Northern California over the next few days.
The first will move through from north to south late today and Saturday.
According to the National Weather Service, the second system will move through late Sunday into Monday.
Although neither of these systems are particularly strong, they will contain cold air producing very low snow levels compared to the warmer storms of the last several weeks.
Snow levels with the first system could go as low as 2,500 feet. This would bring snow down into the Mother Lode.
The second system will be only slightly warmer with expected snow levels around 3,000 feet.
Snowfall amounts with the first system are forecast to range from only one or two inches in the Sierra Nevada.
Snowfall amounts with the second system will be a little more ranging from four to six inches in the Sierra Nevada.
Be prepared if traveling over the mountains over the next several days. Although snow amounts will not be large, slippery or snow covered roads are likely and chain controls may be needed with snow levels lower than experienced over the last several weeks.
Additionally, a Flash Flood Watch remains in effect through Saturday morning for the levees along the Lower San Joaquin River in the Northern San Joaquin Valley.
Don Pedro and other local dams are making large reservoir releases that are raising river levels along the Lower San Joaquin River. These elevated levels are causing flooding in the low-lying areas along the river and increasing concerns on the levees in the area.
As a precaution, San Joaquin County officials and the National Weather Service are encouraging local residents to be prepared to take action in the event that levee conditions deteriorate.
A Flash Flood Watch associated with levees means that there is an issue on the levee that if it were to deteriorate into a failure it could lead to flash flooding and the rapid arrival of flood waters into the area normally protected by the levee.