Habitat Seeking Homebuyers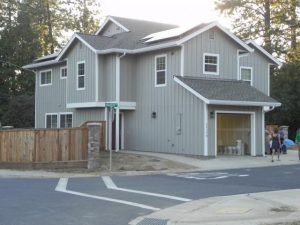 Habitat For Humanity Home

View Photos
Habitat for Humanity of Tuolumne County is accepting applications from Tuolumne County families interested in buying a home in Parrotts Ferry Village.
Trinity Abila, Habitat For Humanity of Tuolumne County Executive Director, was Thursday's KVML "Newsmaker of the Day".
Next week, Habitat for Humanity of Tuolumne County will host five application acceptance days from 9 a.m. to 4 p.m. Feb. 28 through March 4, 2017, where interested homebuyers can turn in packets to its office on Tuolumne Road.
Application packets are available from 9 a.m. to 4 p.m. Mondays through Fridays at the Habitat office at 14216 Tuolumne Road, Sonora or can be downloaded at www.habitattuolumne.org/homeowner/.
Applications must contain all required information and documents to be considered in the homebuyer selection process.
The homes will be sold to qualified, income-eligible buyers. Habitat for Humanity works with several lenders, including the U.S. Department of Agriculture, and homebuyers pay a mortgage that fits with their income.
To be considered, applicants must demonstrate a need for housing (i.e., living in a substandard, hazardous, unsafe, overcrowded and/or unaffordable housing); demonstrate an ability to pay a mortgage (applicants must earn enough income to pay for their home mortgage, but not so much income that they can qualify for a conventional home loan); and demonstrate a willingness to partner with Habitat (homebuyers commit to invest at least 300 hours of sweat equity toward the construction of their own home and attend homeowner education classes).
All applicants will be notified as to whether they will move on to the second phase of the selection process. Four families will be selected to be Habitat homebuyers for the 2017 build cycle.
For more information, call 209-536-0970 or email homeservices@habitattuolumne.org.
The "Newsmaker of the Day" is heard every weekday morning at 6:45, 7:45 and 8:45 on AM 1450 and FM 102.7 KVML