Tampered Registration Sticker Nets Drug Bust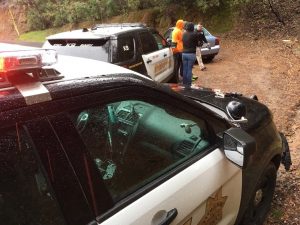 Arrest of Belt and Castro

View Photos
Sonora, CA — An eagle eyed Tuolumne County Deputy spotted what appeared to be a tampered registration sticker and after pulling over the vehicle finds marijuana, meth and pills.
The incident happened on Saturday around 2:45 p.m. on Quail Mine Road near Big Hill Road in Sonora when the deputy noticed the suspicious 2017 sticker on a1998 VW Passat. DMV records confirmed the vehicle's registration to have been expired since 2015.
The driver, 43 year old Hubbard Wilson, was driving on a suspended driver's license, had no proof of insurance, and expired vehicle registration. His passenger, 28 year old Ashley Menking, admitted to having paraphernalia in her purse including a hypodermic needle, several small baggies and cotton balls with a crystalline substance. A records check of the male passenger, 39 year old Stephen Belt, indicated that he was wanted on a felony probationer at large warrant for violation of post community supervision on charges of possessing drugs in jail and possessing or manufacturing a dangerous weapon. Belt also told deputies he had a methamphetamine pipe in his pants.
A third passenger, 21 year old Jalynne Castro, also admitted to having two fixed blade knives hidden in her boots and a marijuana and a methamphetamine smoking pipe in her bra. A search of her backpack uncovered close to 100 pills without a prescription.
Wilson and Menking were cited at the scene and given a court date to appear. Belt and Castro were arrested. Belt faces charges of possession of drug use paraphernalia and his outstanding felony warrant.
Castro charges are for possession of a concealed fixed blade knife, drug use paraphernalia, and a controlled substance without a prescription.