Update: Still A Challenge To Visit Yosemite Valley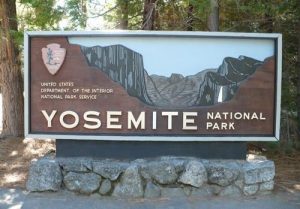 Yosemite Main Entrance - Highway 120

View Photos
Update at 2:17pm: For now, travel access to Yosemite Valley remains restricted to Highway 140/El Portal Road due to road damage in and around Yosemite National Park.
This afternoon park officials state that Big Oak Flat Road/Highway 120 west remains closed within the park between Crane Flat and Foresta, due to storm damage. This closure is expected to last for the next several days as road crews assess and address the repairs.
While Wawona Road/Highway 41 is currently open within the park visitors traveling from the south will not be able to access Yosemite National Park, due to road damage along Highway 41 in Fish Camp, just south of the park entrance.
Visitors using Highway 140/El Portal Road are urged by park officials to please drive slowly and remain aware of potential roadway rocks and debris.
Original Post at 6:40am: Yosemite, CA — There is no access to Yosemite Valley today via Highway 120 or Highway 41.
The Big Oak Flat Road in Yosemite National Park, which is the extension of Highway 120, is closed due to storm damage. The closure runs from Foresta to Crane Flat. Earlier this week the stretch Big Oak Flat Road was closed during the overnight hours from 6pm until 6am, but conditions have worsened, prompting a 24 hour closure. Highway 41 is also closed just outside the park gates, so the only current way to access Yosemite Valley is via Highway 140.