Don Pedro Dollar General Gains Approval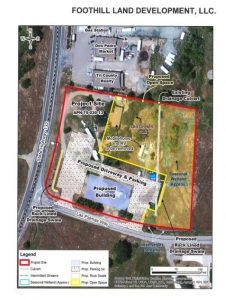 Don Pedro Dollar General Proposal

View Photos
Don Pedro, CA — The Tuolumne County Board of Supervisors last night reversed an earlier planning commission decision regarding the planned Don Pedro Dollar General store.
The planning commission back in November denied the project plans after receiving a petition with an estimated 1,000 signatures against the project, arguing that it would be detrimental to the community. The Don Pedro Market has been notably in opposition to the project arguing that the small community of 3,000 would be unable to sustain two similar type general stores. The commission at the time sided with the sentiment of those in opposition and the vote to deny was 5-1, with Jerry Baker the lone commissioner in favor. Commissioner Cole Przybyla was absent.
Yesterday the Board of Supervisors heard the appeal and sided with the project proponents, and approved the site development permit. It will allow the Dollar General project to be built. The vote was 4-0. Supervisor John Gray recused himself due to a possible conflict of interest.
The 9,100 sq. ft. store will be built at the intersection of Las Palmas Way and Highway 132.