Last Mountain Pass Closed For Season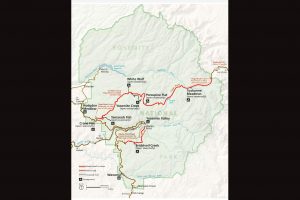 Yosemite road closure map

View Photo
Sonora, CA – Yosemite National Park has officially closed Highway 120 Tioga Pass for the winter season.
Last week, park road crews continued to assess the highway conditions after recent winter storms blew through the region. As previously reported here, Highway 4 Ebbetts Pass was closed for the season on Thursday, and Highway 108 Sonora Pass was closed on Tuesday. Caltrans attributed the closures to heavy snowfall. At the time, Yosemite National Park, which maintains Highway 120 Tioga Pass, relayed that it was still just temporarily closed. After surveying the roadway and finding plenty of snow, park road officials made the decision to close for the season this week.
Caltrans provided this list of where each pass is closed:
Route 4/Ebbetts Pass from the Mt. Reba turnoff just west of Lake Alpine to Silver Creek, 5 miles west of the Route 89 junction (Alpine County).
Route 108/Sonora Pass from the Sno-Park gate east of Strawberry (Tuolumne County) to the U.S. 395 junction in Mono County.
Route 120/Tioga Pass from Crane Flat to 3 miles west of the U.S. 395 junction.
Currently,  there are no traffic restrictions on Route 89 over Monitor Pass, subject to change due to weather conditions.
With the coming holiday travel and snowy season at hand, Caltrans reminds drivers to make sure they are properly packed before venturing to higher elevations and offers this video detailing what you should load before hitting the road.