Update: Traffic Hazards Continue Across Mother Lode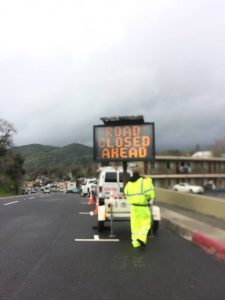 Stockton Road rockslide and closure

View Photos
Update at 4:15 p.m.: Caltrans reports it is pushing back the estimated repair time for reopening Stockton Road after a rockslide. The roadway is closed from Mill Villa Court to Highway 108. Originally, Caltrans had called for a 6 p.m. opening of the roadway, but Caltrans spokesperson Rick Estrada explains, "The road has been cleared but there is still a few large boulders above the road. Our plan is to bring in a wall barrier…if more land does come down, it should hit that wall and should keep the road protected." Estrada adds the new estimated opening time is 8 p.m.
Update at 3:45 p.m.: Tuolumne County Sheriff's officials report a tree has come crashing down across Black Oak Road near Barron Ranch Road south of Soulsbyville in the Diamond Bar Ranch area.  The CHP reports that the tree hit a vehicle but luckily there were no injuries. However, the tree is blocking the roadway and officers are turning around traffic.
Update at 2:50 p.m.: Caltrans reports that Stockton Road, which has been shutdown from Ponderosa Road to Highway 108 due to a rockslide, will reopen at 6 p.m.
Update at 2:25pm: Hwy 41 south of Yosemite closed due to a hail storm. Earlier, Yosemite National Park officials indicated that the road would close beginning at 2 p.m. today for at least three days, meaning the highway would not be available to access Yosemite.
Due to weather conditions and impacts, Big Oak Flat Road, via Highway 120 from the west is currently open only from 6 a.m. to 6 p.m. daily. Access via El Portal Road/Highway 140 remains open 24 hours per day at this time.
The Highway 120/James E. Roberts Bridge will not be closing for overnight renovations tonight due to the current weather conditions. The span generally closes Sunday through Thursday nights, from 5 p.m. until 7 a.m. the following morning.Caltrans reports it is also making a change to the overnight west detour, which had been routing motorists from Highway 120 south on La Grange Road then east onto Bonds Flat Road to Highway 49. However, due to heavy rain and flooding on Bonds Flat Road, travelers will now be directed south on La Grange Road to Highway 132 east and then north on Highway 49.
Update at 2:01 pm: In Calaveras County the CHP San Andreas Unit warns motorists to NOT move the road closed signs at Pettinger Road, north of Messing Road, where excessive flooding has created a significant road hazard. The impacted area is located near Valley Springs just off Highway 12. The CHP emphasizes it is just a couple of extra minutes to simply detour down Messing Road.
Update at 1:38pm: Parrotts Ferry Road between Sawmill Flat and Union Hill roads in Columbia is now closed due to excessive flooding causing unsafe conditions. The Tuolumne County Community Resources Agency asks motorists to please plan to use alternative routes while the closure is in place. Too, Sonora Police say that a stretch of Stockton Road will be closed indefinitely due to a mud and rock slide earlier today. Officials report that Caltrans is taking over the closure and putting barricades into place along Stockton Road between Highway 108 and Ponderosa Road, as well as bringing in a geologist to assess the damage ahead of making a repair plan.
Update at 11am: The CHP reports that there is some roadway flooding on Highway 49 near Parrotts Ferry Road. Caltrans was requested to bring in signs to alert motorists.  The earlier accidents have been cleared up on Highway 12 and Tuolumne Road.
Original story posted at 10am: Sonora, CA — The Sonora Police Department is closing a stretch of Stockton Road due to a rockslide and boulders falling into the road.
The Police Department reports that there is currently no access to Stockton Road via Highway 108 and traffic is being diverted to South Washington Street. Caltrans has been notified and officials will soon arrive on scene to assess the situation. You will want to avoid the area.
There is some flooding along Draper Mine Road in Tuolumne County near Via Arroyo.
In Calaveras County, there is a two vehicle accident temporarily blocking Highway 12 near Double Springs Road. An ambulance is responding to the scene.
There is also a crash on Tuolumne Road, near Morris Road, involving four vehicles. Minor injuries have been reported.