Tree Falls Over Dragoon Gulch Trail In Sonora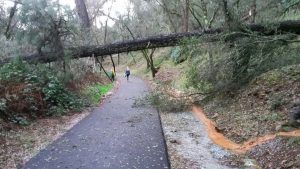 Tree over Dragoon Gulch Trail, Feb. 20, 2017.

View Photos
Sonora, CA — The Dragoon Gulch Trail in Sonora is closed this morning on the Forest Road side due to a tree that fell yesterday.
Thankfully no one was injured in the incident that occurred around 3:30pm. The tree fell approximately 400 ft. from the trail entrance. Bill Seldon with the City of Sonora reports that a baseline crew will be on scene this morning to remove the tree so residents are asked to avoid the area.
A special thanks to community news partner Cole Thompson for e-mailing a photo. News related pictures can be sent to news@clarkebroadcasting.com.