Among Holiday Road Hazards, Storm-downed Trees, Flooding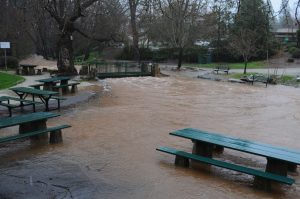 Flooding at Murphys Park, looking upstream from Algiers St., Feb. 20. 2017

View Photos
Update at 4:56 p.m.: The Calaveras County Sheriff's Office reports high flow conditions at Murphys Creek below the Murphys afterbay. Although there is no immediate emergency, according to officials residents need to be alert to the rising creek level.
Update at 2:56 p.m.: CHP San Andreas is responding to reports of mud/dirt/rock along Highway 4 in Angels Camp near Stallion Way and a mudslide in Copperopolis on Obrynes Ferry Road near Copper Cove Drive.
Original Post at 2:54 p.m.: Sonora, CA — Storm havoc continues this afternoon in the Mother Lode with more reports of downed trees, flooding and other related issues.
As you can tell from the storm pictures coming in (click in left image box to view slideshow), Murphys Park near Algiers Street is now flooding. News partner Bob Bliss caught pictures there and at Utica Power House, where waters are spilling.
In the 2 p.m. hour the CHP Sonora Unit is reporting a tree down on Jacksonville Road by Lulu Mine Road near Algerine. Another tree came down across both lanes of Wards Ferry Road near Tuolumne Road that may have hit powerlines but there is no word as to if those came down as well. There is now flooding being reported on Highway 49 at Shaws Flat Road. Around 2:20 it was also reported that Highway 49 near Rawhide Road adjacent to Mormon Creek was flooding.
At the Highway 120 James E Roberts Bridge, the CHP received at least two reports of boards that winds may have loosened along the bridge span construction site and hit vehicles. West of Buck Meadows on Highway 120 at Ferretti-Hells Hollow roads another tree that hit wires is also wreaking travel impacts.
In Carson Hill on Highway 49 the CHP San Andreas Unit responded to reported roadway flooding there and near Bonanza Lane.
Our thanks to Clarke Broadcasting news partners Bob Bliss, Tamara Hansen, Cathy Stone-Carlson, Linda Jacobi, Cole Thompson and Bruce Winningham. You may send weather-related and other breaking news photos to news@clarkebroadcasting.com.