Another Atmospheric River Brings New Flood Warning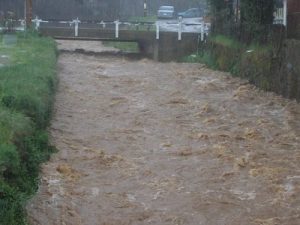 Flood

View Photos
The National Weather Service has issued a Flood Warning for Tuolumne and Calaveras Counties until 4 PM Thursday.
Northern California will experience another significant uptick in flooding problems starting late Sunday Night and continuing through Monday Night as an intense Atmospheric River type storm arrives.
The entire region has saturated soils and many flooded areas already, this will enhance the impact of additional heavy rains.
Additional stress will be placed on levees, rivers, creeks, and streams.
There may be flooding in locations which haven`t been impacted in many years.
The National Weather Service is strongly advising all residents in Northern California to be prepared for flooding.
Be prepared to evacuate if flooding should affect your area. Gather a "go bag" with important items like medications and hard to replace documents. Don`t forget to plan for your pets and animals. Please never drive across flooded waters, especially flowing water. Most people who are killed or injured during floods are attempting to drive through flooded waters.
Additionally, a Winter Storm Watch is in effect for the Sierra Nevada above 7,000 feet from Sunday morning through Tuesday morning.
Total snow accumulations will range from one to four feet above the 7,000 foot elevation.
Winds of twenty-five to thirty-five mph are likely with gusts up to sixty mph.
As a side note, four to ten inches of snow is possible by tomorrow morning above 6,000 feet.
A Winter Storm Watch means there is a potential for significant snow, sleet, or ice accumulations that may impact travel.