Violent Domestic Attacker Faces Long Prison Term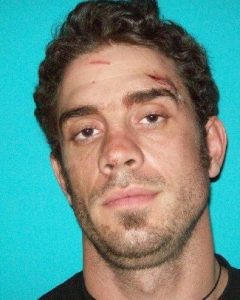 Joshua Power

View Photos
Sonora, CA— Despite the reluctance of his three terror victims to testify over the course of the four-day jury trial Joshua Power of Groveland is now facing 40 years in prison.
Tuolumne County District Attorney Laura Krieg shares today that, after four hours of jury deliberations, Power was convicted Wednesday for eight felony counts and one misdemeanor.
Among the crimes, which stem from a series of events over three separate days are kidnapping; corporal injury to a spouse; residential first degree robbery and person present burglary; two counts of false imprisonment by violence; criminal threats; resisting a peace officer; also corporal injury to a person with whom the defendant had or previously had a dating relationship. The case was prosecuted by Deputy District Attorney Stephanie Novelli and heard before Judge Donald Segerstrom.
Power's Terror Tools: A Box Cutter, Bare Knuckles    
As Krieg recounts, last year on Jan. 18, Power — by threatening to cut a friend with a box cutter — forced him to where Power's estranged wife was staying. After entering her residence unannounced, he grabbed her by the hair and began to assault her while she held her young toddler son.
The attack continued as he dragged her to another room where he pinned her down, also threatening to kill her while holding the box cutter and forcibly grabbing her phone out of reach. While his wife was able to escape from the house, after falling outside she was held down and punched by Power until neighbors saw and confronted him, after which he fled the scene.
Eight days later Krieg details that a multi-agency apprehension team assembled to take Power into custody. This occurred through a traffic stop by Tuolumne County Sheriff's deputies and Stockton Police K9 Cain, who had to be deployed when Power while on foot attempted to again leave the scene. Booked on multiple charges, Power bailed out of custody.
Another Day, Another Woman Victimized
While still out on bail, Power racked up more terror charges on Nov. 5, attacking a girlfriend after she found him at home with another woman. In that incident Krieg states that Power dragged her by the neck back towards the house as she was walking away and then drew blood with a punch to her nose. She was able to flee and get help calling 911.
"Unfortunately, as the case in many domestic violence situations, all three victims of Mr. Power's terror were reluctant to report or testify," Krieg confides. One victim refused to answer a single question when called to testify while the other two stated that they did not remember or minimized what occurred.
Following the return of the verdicts, it was determined that since Power has several prior offense convictions, including prior domestic violence and battery causing serious bodily injury, his prison time may potentially be enhanced. Power's sentencing is scheduled for April 4. In addition to thanking the jury members for their careful attention to the case and thoughtful deliberations, Krieg extends kudos to the Tuolumne County Sheriff's Office for helping solve the string of crimes. To this Novelli adds, "We would also like to thank the civilian witnesses who did cooperate, ensuring that such a violent and dangerous criminal was brought to justice."