Caltrans Estimates April Opening Date For Highway 26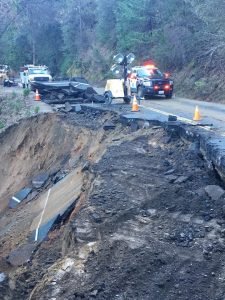 HWY26 washout damage

View Photos
West Point, CA — A three-mile stretch of Highway 26 will remain closed for an extended period, according to Caltrans spokesperson Skip Allum.
"Based on the feedback that we are getting from the contractor on site, and our construction crews, we have determined that early April is going to be the estimated time of opening for Highway 26. It is because of the original slide-out that happened near Higdon Road, and then the rockslide that occurred the next day near the North Fork Mokelumne River Bridge."
The estimated opening date is tentative to change depending on weather conditions.
While the highway is being cleared and fixed, Allum identifies a detour that will take you about 20 minutes out of the way. He states, "They [travelers] have to go all the way around. Those going eastbound on Highway 26 will be directed to take northbound Highway 49 to eastbound Highway 88. Westbound traffic will take Highway 88 to southbound Highway 49 to westbound Highway 26."