Local Man Arrested for Sex With Minor, Selling Child Porn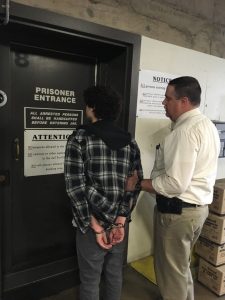 Fabian Rivera arrest

View Photos
Columbia, CA — Tuolumne County Sheriff's officials first got wind of the crime on Valentine's Day when a private investigator from southern California contacted them regarding a family from Washington state that had hired him to find their 17-year-old runaway daughter, who he believed was now in the Columbia area.
A deputy discovered the juvenile could be with 21-year-old Fabian Rivera, who the family believed had coerced her to leave or had taken her against her will. On Wednesday, during a stake out of two locations Rivera was known to frequent, his vehicle was spotted at the Columbia Junior College parking lot where he was attending a class. Meanwhile, the juvenile was found safe in the library. She confirmed to investigators that Rivera knew her age and had picked her up in Washington and brought her to Columbia where they were involved sexually. Sgt. Andrea Benson adds, "The two met on the internet."
Rivera was taken into custody in the parking lot. During a search of a home on Marble Quarry Road where the two had stayed for four days, detectives found evidence corroborating the girl's statement. She was reunited with her parents that afternoon.
Rivera faces charges of contacting a minor with intent for sex, unlawful sexual intercourse with a minor, oral copulation, sending/selling child pornography, and possession of child pornography. Sgt. Andrea Benson states, "No further information will be released at this time due to the sensitivity of the case and to protect the privacy of the minor victim. The investigation is ongoing."