Cancer Seminar At Sonora Regional Medical Center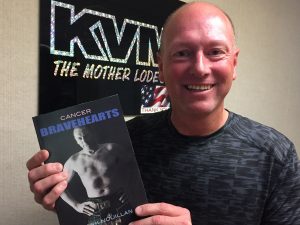 Mark Nouillan

View Photos
Thirty plus years of being treated for various forms of cancer has left Twain Harte resident Mark Nouillan, "the most radiated man on the face of the earth."
Nouillan was Friday's KVML "Newsmaker of the Day".
The Scottish born Nouillan was told by one doctor that, based on the amount of radiation treatment received, Nouillan is now the most radiated living man on the face of the earth.
When looking at Nouillan, one would probably not think that he could hold such a claim. Nouillan appears to be fit, healthy and happy.
"It has been a battle to get to this point," said Nouillan. "Some people say that I look really good, therefore I can't possibly relate to their own hardships. They have no idea how difficult my treatment has been. I was sent home as a teenager to die. Today, I can relate with almost anything that people who have been diagnosed with cancer are facing and encourage them."
This is why Nouillan will conduct a Cancer Bravehearts Seminar at Sonora Regional Medical Center on Saturday, February 25th from 10 AM to 2 PM. Free lunch will be provided by the generous support of the Cancer Center. The specific location for the Seminar will be in the Medical Center Conference rooms by the Garden Cafe.
The Seminar is free of charge and is open to everyone. Nouillan asks anyone who plans to attend to register in advance by calling (209) 206-6900 or by registering online at http://www.cancerbravehearts.com. This will allow an accurate head count for lunch.
According to Nouillan, the Seminar will include four specific steps.
1. Understanding Our Conditioned Response To Cancer.
2. Reversing our Response and Recognizing Our Role.
3. Taking Control of Our Lives.
4. Creating A Compelling Future.
Nouillan continues, "It's my personal belief that when we are faced with illness that is so serious, that one of the most important things we can do is to focus on what we are going to do in the future and create special goals that compel us to succeed in our battle."
"I have made many close friends at Sonora Regional Medical's Cancer Care Center," said Nouillan. "This area has some of the greatest support that anyone, anywhere could ever want."
Nouillan has written a book called "Cancer Bravehearts".
The "Newsmaker of the Day" is heard every weekday morning on AM 1450 and FM 102.7 KVML at 6:45, 7:45 and 8:45 AM.