Record Wet Winter Creating Well Water Risks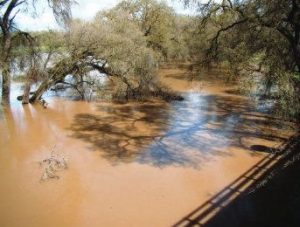 Tuolumne River Overflow

View Photos
Sonora, CA – Already experiencing the wettest winter in 35 years – and with more storms still incoming — the Mother Lode's oversaturated soils are triggering warnings from county health officials to private well owners.
The Tuolumne County Department of Environmental Health alerts the public that flooding episodes from way too many recent significant weather events sends an obvious signal: we now have much more water than our local ground, river, creeks and drainages can handle.
Officials point to areas like Kewin Mill and Mormon Creek roads where residences are located adjacent to creeks but still rely on wells to meet their household water needs. Such close proximity of wells and expanding creek water levels increases potential for floodwaters to wreak debris damage or contamination, even just from coarse sediments.
Flooded Well? Get Expert Help
First and foremost, they stress it is important to keep in mind that drinking or washing with water from a private well that has been flooded carries risks. Health officials recommend that drilled, driven or bored wells are best professionally disinfected by well or pump contractor. Those who suspect contamination in their wells should immediately contact Tuolumne County Environmental Health at 209 533-5633. Wells that are more than ten years old or less than 50 feet deep are at greater risk.
Even if there appears to be no damage, flooding increases the potential for wells to collapse. Possibly unnoticeable impacts include water damage to a well's electrical system, control box, wiring, or pump. Even if electrical components have dried off, experts warn to not turn equipment back on until it has been checked out by a qualified electrician, well contractor or pump contractor.
County health provides how-to details on how to go about disinfecting private well water supplies. They also recommend sampling and testing measures as crucial steps to rule out contamination or help determined corrective measures for any well that has been in contact with floodwaters. For more details and resources for well owners, click here.