Traffic Stop Nets Drug Bust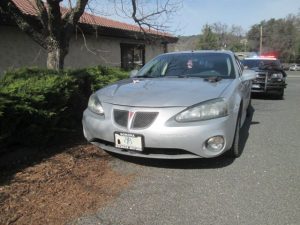 Traffic stop and arrest of Stevens

View Photos
Sonora, CA — A Sonora man's vehicle rolls over the stop line at an intersection but that is not the only problem that prompted a deputy to pull him over resulting in a drug bust.
38-year-old Jason Stevens was driving his Pontiac Grand AM northbound on Hillsdale Drive in Sonora around 11 a.m. Monday when he failed to properly stop at an intersection. That caught the eye of a Tuolumne County Deputy who noticed the vehicle went past the stop sign limit line. A closer look at the car revealed a paper rear dealer plate without a temporary registration tag posted on the rear window prompting the deputy to make a traffic stop.
A records check uncovered Stevens had a suspended license. During a search of Stevens a glass methamphetamine pipe was found in his jacket. As the deputy patted Steven's pant leg a folded plastic cellophane baggie containing a little over a gram of methamphetamine fell to the ground.
Stevens was taken into custody for possession of a controlled substance and drug paraphernalia along with driving on a suspended license.