Theft Of CCWD Equipment Led To Chase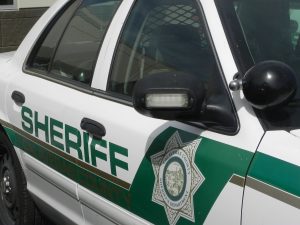 Calaveras County Sheriff

View Photos
Valley Springs, CA – Calaveras County Sheriff's officials report deputies tried to stop a man in a stolen utility truck three times but each time he took off leading them on a chase through the Valley Springs and Wallace areas.
The incident happened on Monday just after 7 a.m. when deputies were alerted to a burglary at the Calaveras County Water District Water Treatment Plant on Campbell Road in Valley Springs. Multiple tools had been taken and the thief had driven off in a 2008 Ford 350 truck with a utility bed. Several hours later in the afternoon the stolen truck was spotted on Quail Oaks Road. Deputies pulled the driver over and as they approached the truck the driver hit the gas and took off. The same cat and mouse game was played two more times by the suspect with deputies giving chase. The total pursuit lasted 20 miles and 30 minutes along highways and county roads, according to sheriff's officials. Once the truck ended up on Highway 12 at Haskell Road, the CHP took over and chased the suspect for nearly an hour until ending the pursuit due to safety reasons.
Pursuit of the suspect picked up again around 4:20 p.m. after a witness reported seeing a man jumping out of the truck in the 4700 block of Lakeview drive in Valley Springs and running into the woods. Later that evening, deputies found 24-year-old Octavio Hernandez being detained by a citizen at Hillvale Drive and Kitty Hawk Court off Highway 26. Hernandez was arrested. He faces charges of evading, burglary and possession of stolen property. His bail is set at $75,000.