New Chief Medical Officer Makes The Rounds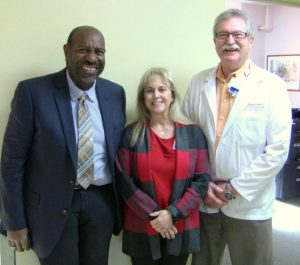 MTMC's Chief Medical Officer Dr. Lonnie Smith, with RNs Michelle Epperson and Leonard Neuman.

View Photos
San Andreas, CA — Mark Twain Medical Center (MTMC) officials are introducing their new chief medical officer around.
Dr. Lonnie Smith, who initially came on board last November, is fully embracing his new dual-role duties, according to MTMC officials.
Charged with overseeing operations of the hospital's five rural health clinics and three specialty care centers, Smith is also MTMC's senior physician executive. In this latter capacity he works in conjunction with the administrative team and medical staff to oversee the various departments as well as to recruit doctors and contract for specialty services.
Current focus areas, according to Smith, are fine tuning existing services and working to expand clinic options. In his clinic oversight role, Dr. Smith is assisted in making regular rounds by two designated staff RNS; Leonard Neuman and Michelle Epperson. As he explains, "We want our clinics to be the first thing residents think about when they need medical attention. We are enhancing the primary care aspect of the clinics, an option many residents now seem to overlook."
Smith says that walk-in patients are often much sicker than they realize. In many cases they have not seen a primary care physician in a long time, if ever. "My mission is to make our rural health clinics the medical 'home' for residents, where they regularly connect with a primary care physician for preventative care and to manage chronic diseases," he emphasizes. Smith also points to MTMC's cancer, heart and orthopedic centers that are able to provide specialty care close to home, unlike healthcare facilities located hours away by ground transport.
MTMC officials state that Dr. Smith's responsibilities cover those formerly held by outgoing Vice-President of Medical Affairs Dr. Robert Allen and Director of Clinics Dr. Sean Anderson, both who remain with Dignity Health.
A healthcare practitioner for nearly three decades, Smith came to MTMC from Tulare, where he most recently supervised a medical staff of over 220 and handled recruitment for a 120-bed medical complex. Before that he served as the medical director for the Sleep Disorders Lab and as chief of surgery and staff at Tulare Regional Medical Center.
A Doctor of Medicine graduate of the University of California Los Angeles (UCLA), he is also a certified physician executive with a Masters in Medical Management from the Marshall School of Business at University of Southern California (USC). He and his wife Nena, a nurse, have settled in Copperopolis. They have four adult children.