Sonora Chamber Of Commerce Stays Active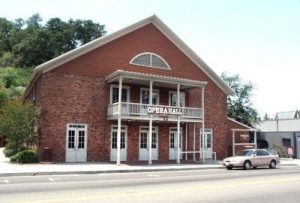 Sonora Opera Hall

View Photos
The Sonora Chamber of Commerce is an active membership organization representing the community of Sonora.
Shirley Sarno, chamber member, was Thursday's KVML "Newsmaker of the Day".
The Sonora Chamber of Commerce not only concentrates their marketing efforts within the Sonora area but they are also dedicated to raising the awareness of Sonora through tourism, and market the area as a tourism destination.
The Mission of the Sonora Chamber of Commerce is to develop an economically prosperous business district while maintaining the character and integrity of downtown Sonora, making it the "heartbeat" of the community.
The Chamber is active with many community projects, mixers, events and twice a year publishes a magazine called "Explore Sonora".
"2nd Thursday Indie Movie Nights" presented by the Sonora Chamber, will take place tonight at the Sonora Opera Hall, Doors open at 6 PM. The movie begins at 7:00 pm. Tickets are $10. Beer, wine and popcorn will be served. You are invited to bring your own comfortable chair from home or you may use one of the chairs available at the Opera Hall.
Movie Schedule:
February: "Beyond the Rocks" Silent movie. Narrated by surprise guests. This is a .ove story to kick off Valentines Day Weekend.
March: The Full Monty. Rated R.
April: The Royal Tenenbaums. Cult classic family. Rated R.
The Sonora Chamber of Commerce also presents Sonora's 2nd Saturday Art Night this Saturday in downtown Sonora. The hours run from 5 PM through 8 PM.
2nd Saturday Art Night began in 2010 with six art galleries and about one hundred and fifty people. The monthly amount of participating merchants has grown over the years and the crowds have grown to an estimated eight hundred to one thousand people.
Musicians perform mostly free of charge. Tip jars are available for appreciative audiences. The musicians, of every genre of music, can be found in clothing stores, art galleries, restaurants and outside on the sidewalks of downtown Sonora.
2nd Saturday Arts Night also gives merchants in downtown Sonora a chance to showcase their stores, often with special sales or incentives to come inside.
For more information, log onto http://www.2ndsaturdayartnight.org/
In past summers, the Sonora Chamber of Commerce also ran the very popular "Music in the Park" series at Courthouse Park.
Originally called the "Historic Sonora Chamber of Commerce", Sarno said that the word "historic" was confusing to merchants. Any business within the Sonora city limits is welcome to be a member. That word (historic) was slowly dropped over time by the Chamber.
To learn more about the Chamber call (209) 588-9625.
The "Newsmaker of the Day" is heard every weekday morning on AM 1450 KVML at 6:45, 7:45 and 8:45am.