Sinkhole Opens Up In Arnold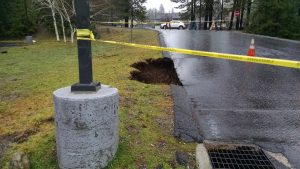 Sinkhole at Meadowmont Shopping Center in Arnold

View Photos
Arnold, CA – A sinkhole has forced the closure of one entrance off Highway 4 into a popular shopping center in Arnold.
Yellow caution tape has been used to block off the east entrance to the Meadowmont Shopping Center, which is home to the Big Trees Market and several other stores. As can be seen in the pictures in the left-image box, the hole is close to the roadway and is reportedly about five feet wide and six feet deep.
All the businesses are open in the center with access available through the main entrance off Highway 4.  There is no word on what steps are being taken to repair the sinkhole or an estimate as to when the entrance could reopen.