Tuolumne County Planning Commission Shakeup Stirs Debate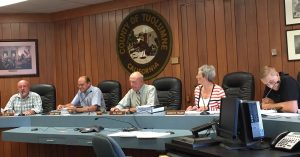 Tuolumne County Planning Commission

View Photos
The Tuolumne County Board of Supervisors reappointed three planning commissioners today, and a new commissioner will soon be appointed to John Latorre's seat.
The three reappointed to four year terms, set to expire in 2021, include Cole Przybyla in District One, Charlotte Frazier in District Five and Dick Pland to an at-large seat. The re-appointments were approved unanimously.
The District Three seat, held by John Latorre, was set to expire in 2019. However, LaTorre recently moved to the City of Sonora, so he no longer lives in District Three. He sent an e-mail to District Three Supervisor Evan Royce stating, "I am guessing that this (moving) may have an impact on my eligibility to represent District Three on the Planning Commission. Would you look into this for me? I am thinking it makes sense for you and I both to get the information at the same time. In fact, if you would like to begin by forwarding this e-mail to County Counsel, that would be fine with me."
At this morning's meeting it was noted that there are no requirements for a planning commissioner to live in the district they represent. For example, Commissioner Peter Rei lives just outside of District Two, and he holds the seat.  Royce, however, noted he prefers having a commissioner that physically lives within his district, and moved to accept LaTorre's e-mail as a formal resignation, and post a letter of vacancy. Royce also offered praise for LaTorre's service, in doing so. Royce cited the disbanding of the various smaller county planning commissions in past years as a reason he feels it is important for a resident of that district to fill the seat.
Three members of the public came up and spoke in opposition, Carol Doud, Robert Carabas and Andrew Clemo. Allegations were made that the Supervisors only want candidates in line with their beliefs, and that Latorre is more "open-minded" on issues. The Supervisors took issue with the claims, and voted 5-0 to accept Latorre's e-mail as his resignation.