Winter Storm Warning, Flood Watch & Wind Advisory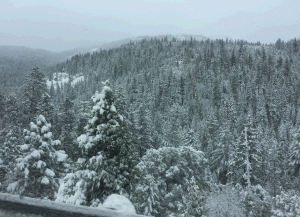 Snow In Sierra

View Photos
The National Weather Service has issued a Flood Watch for the Sierra Nevada, the Mother Lode and the Northern San Joaquin Valley from 4 PM this afternoon through Friday afternoon.
A prolonged period of moderate to heavy rain is expected across the Northern California tonight through Friday. Significant rises in rivers and streams draining the mountains can be expected beginning this afternoon.
The combination of saturated ground, heavy rain and limited snow melt will result in large amounts of runoff into rivers and streams. Mudslides and rockslides are also expected and can lead to road closures. Flooding of poor drainage areas and flood prone creeks and streams will be possible.
Total rainfall accumulation of over an inch is anticipated in the Central Valley. Three to six inches of rain is likely in the Sierra Nevada.
Additionally, a Winter Storm Warning remains in effect for the Sierra Nevada until 10 PM Tuesday.
Total snow accumulations will range from one to 2 feet above 6,000 feet through tonight. Then an additional one to two feet is expected above 8,000 feet on Tuesday.
Winds of twenty to forty mph will continue with gusts ranging from sixty to eighty mph near the Sierra
Nevada crest.
A Wind Advisory remains in effect for the Mother Lode and the Northern San Joaquin Valley from midnight tonight through noon Tuesday.
Winds of twenty to thirty mph are likely with gusts up to fifty mph and higher in the Mother Lode.
This could result in possible downed trees and power outages along with difficult driving conditions, especially for high profile vehicles.
A Wind Advisory means that gusts up to forty mph or higher are possible. Winds this strong can cause property damage and make driving difficult. Use extra caution.
A Winter Storm Warning means that severe winter weather conditions are expected or is occurring. Significant amounts of snow are forecast that will make travel dangerous. Strong wind combined with heavy snow will make for white out conditions. Only travel in an emergency. If you must travel, keep an extra flashlight, food, and water in your vehicle in case of an emergency.
A Flood Watch means there is a potential for flooding based on current forecasts. You should monitor forecasts and be alert for possible flood warnings. Those living in areas prone to flooding should be prepared to take action should flooding develop.