Update: Major Power Outage In San Andreas Area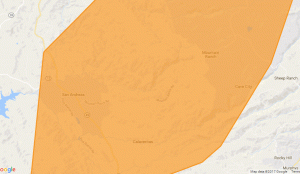 San Andreas Area Power Outage

View Photos
Update at 1:22 pm: PG&E reports that a large outage caused this morning by an equipment failure is now repaired.
Early in the noon hour nearly 2,500 customers were still reported as being without power. Almost 3,200 were initially impacted.
Update at 10:50am: PG&E reports that the number of customers impacted in Calaveras County has decreased to 2,765. PG&E has identified an equipment failure and a crew is working to make repairs. The estimated restoration time remains 12:30pm.
Original story posted at 9:45am: San Andreas, CA — PG&E reports that a power outage is impacting 3,167 PG&E customers in Calaveras County.
The outage started just after 8:30am and PG&E officials are currently investigating the cause. The utility company reports it hopes to have everyone restored by 12:30pm today. The outage is impacting San Andreas, Mountain Ranch, Calaveritas, Cave City and parts of Jesus Maria. It includes areas like Pool Station Road, Mountain Ranch Road and Jesus Maria Road.
To report an outage, or to request information on a specific neighborhood, you can call 1-800-PGE-5000.