Tuolumne-Calaveras Burn Suspension Being Lifted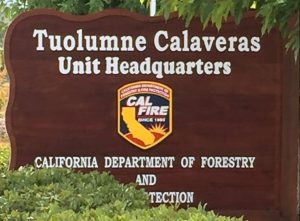 Cal Fire Tuolumne Calaveras Unit HQ sign

View Photo
Sonora, CA — Effective tomorrow (Friday) morning at 8am, burning will be allowed, with a permit, within the CAL Fire Tuolumne-Calaveras jurisdiction.
Those with valid agriculture and residential burn permits will be allowed to burn as long as it is declared a permissive burn day.
Agriculture burns must be inspected by CAL Fire prior to burning until the end of peak fire season. The agency adds that inspections may be required for burns other than agriculture burns. This can be verified by contacting your local Air Quality Management District.
Also, the use of a burn barrel is illegal in Tuolumne and Calaveras counties.
Tips on residential landscape debris burning can be found here.
From CAL Fire:
To acquire a permit, applicants may access the website at https://burnpermit.fire.ca.gov watch the mandatory video which reviews burning requirements and safety tips, fill in the required fields, submit the form and a dooryard burn permit will be created. The applicant must then print and sign the permit. Permits are valid for the calendar year in which they are issued and must be reissued annually on or after January 1st of each year. If an online permit is not an option and you reside in the Tuolumne-Calaveras Unit service area, call (209) 754-3831 for assistance or visit your nearest CAL FIRE TCU fire station during normal business hours.