Emergency Repairs Close Calaveras County Roadway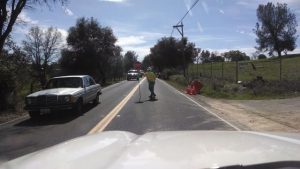 Road work

View Photos
San Andreas, CA – Lingering stormy weather impacts have forced the Calaveras County Public Works department to shut down a section of Old Gulch Road in the San Andreas area.
Crews will be repairing a washed out section of the roadway near the intersection of Big Foot and Rocky roads. The road work will run through February 13. Motorists can expect up to 20 minute delays as flaggers will be conducting one-way traffic control on Old Gulch Road.
The county advises travelers to take and alternative route if possible.