Police Arrest Alleged Frying Pan Assailant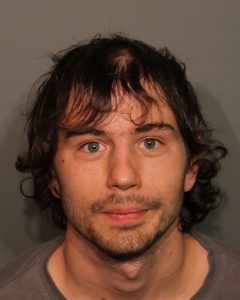 Justin Gadberry, Booking Photo

View Photos
Angels Camp, CA – Police finally caught up with a man wanted on felony assault charges, including causing great bodily injury, after allegedly assaulting another man with a frying pan.
According to Angels Camp Police Chief Todd Fordahl, those charges stem from a Jan. 8 evening incident when Justin Michael Gadberry, 32, reportedly attacked a man within an apartment complex on Stanislaus Avenue. Reportedly the victim was asleep on a couch when Gadberry entered the residence and initiated an argument with people inside.
Chief Fordahl recounts that, after a resident of the apartment requested Gadberry to close the door, he went into the kitchen where he grabbed a pan and began flailing it at the victim. Others in the room were able to break up the attack and call for help. By the time police arrived, Gadberry had left and the victim was already being treated in the emergency room at Mark Twain Medical Center in San Andreas.
"No one among the witnesses had any idea why Gadberry would attack the victim," the chief shares. After taking witnesses' statements, he adds that police caught up with the victim in the ER, who confirmed their accounts, also echoing that he had no explanation as to what might have provoked Gadberry's alleged attack.
Then on Friday, the chief says officers spotted Gadberry behind the wheel of a vehicle, made a traffic stop, and were successful at subsequently taking him into custody, although he resisted arrest and once subdued, still attempted to slip his handcuffs. Gadberry now faces additional charges for trying to resist and evade the officers.