Road Closures and Delays Due To TUD Projects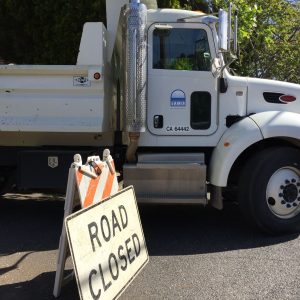 TUD crews at work

View Photos
Tuolumne County, CA — Roadways in Jamestown and Columbia as well as travelers will be impacted by a pipe replacement and sewer work conducted by Tuolumne Utilities District (TUD) crews.
Detours will be in place once again in Jamestown for the Quartz-Stent Water Main Extension Project beginning Monday. (An earlier story posted here details the project.) The work that began in November on the drought related project will force the closure of Jacksonville Road between Dutch Mine and Stent Cut-Off roads from 7am to 4 p.m. daily. TUD spokesperson Lisa Westbrook notes Mother Nature has created some delays for the project. "Due to the weather, we have been delayed quite a bit, which is a good thing because we need the snowpack and the rain, says Westbrook. She adds, "Actually it's only delayed us really about a couple of weeks. We are still planning to be on schedule and complete the project by April."
Residents and customers of Pet Vacations will have access to the closed roadways. School bus routes and pickup locations will also remain the same, according to TUD.
In Columbia, the Gold Springs Sewer Replacement Project will have crews making temporary road improvements on Parrotts Ferry Road on Monday from 7:30 a.m. to 3:30 p.m. (An earlier story posted here details the project.) Motorists can expect traffic delays between North Gold Street and Marble Quarry Road. Once the weather permits, permanent surface repairs to the road will be made, according to TUD.