Removal Of Burnt Butte Fire Trees Brings Traffic Delays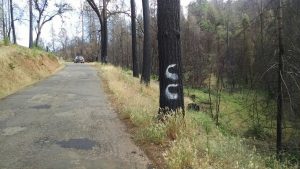 Calaveras County trees marked for removal

View Photos
Mountain Ranch, CA — The Calaveras County Department of Public Works reports all the hazardous trees in the Butte Fire burn scar have been marked and now it is time to start cutting them down.
The county was required to mark all the unsafe trees per Federal Emergency Management Agency (FEMA). In total, there are 8,400 trees that pose a danger as they have the potential to fall and impact public roadways. The county notes the trees are located within the County's jurisdiction while adjacent private property.
Weather permitting, the tree removal will begin Monday along Mountain Ranch and Railroad Flat roads now that the county has received the National Environmental Policy Act (NEPA) approval.
Motorists can expect some delays due to intermittent road closures with flaggers directing one-way traffic controls during the day while the work is being done. There is no word from the county on what roadways within the burn footprint will be targeted next or when the work is expected to be completed.