Arrested Suspect Rushed To ER After Swallowing Meth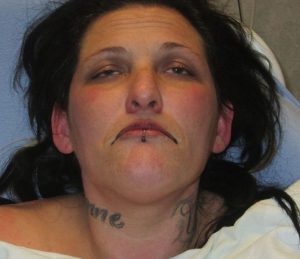 Brandy Barrett

View Photos
Sonora, CA – Tuolumne County Sheriff's officials report the suspect was taken into custody after a traffic stop and she was also found to have heroin, cocaine and marijuana on her.
Early Thursday morning on the Highway 108 westbound ramp, a deputy pulled over a Nissan Altima for speeding and a windshield with an obstructed view. A records check showed the driver, 38 year old Brandy Barrett from Delhi had a suspended license and also had no proof of insurance. Barrett and her passenger, 34 year old Lynn Thomas of Ripon, were both on parole out of Stanislaus County for possession of methamphetamine and stolen property allowing for the vehicle and women to be searched.
Barrett admitted to hiding marijuana in her bra. She also had a credit card belonging to someone else on her. K9 Zeus was called to the scene and sniffed out a syringe containing heroin inside the car.
The pair was arrested. Once at the Tuolumne County Jail, Barrett also admitted to having a methamphetamine pipe in her underwear and swallowing meth. Sgt. Andrea Benson elaborates, "The deputy noticed that she was chewing on something so, she definitely needed to get medical attention to make sure she was okay. Approximately three grams of methamphetamine was in her mouth, she ingested it to attempt to conceal it, a pretty large amount to conceal like that – very dangerous."
Barrett was taken to Sonora Regional Medical Center where ER staff found a small baggie of cocaine and a pipe also hidden in her underwear.
Sgt. Benson reports Barrett did recover and now faces charges of bringing a controlled substance into the jail, destroying or concealing evidence, possession of a controlled substance and drug paraphernalia, along with traffic violations.
Thomas is charged with possession of a controlled substance and drug paraphernalia.