Locally Owned Pharmacy Staple To Close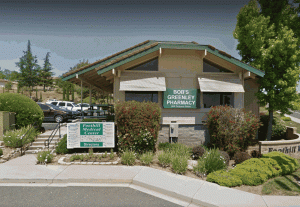 Bob's Greenley Pharmacy

View Photos
---
Sonora, CA – After 39 years in business, Bob's Greenley Pharmacy in Sonora will close its doors at 6 p.m. Thursday.
Owner John Williams says that his father — the store's founder-namesake, Bob — opened the business in 1978. It has been a staple in the community ever since, located at 800 Delnero Drive off Greenley Road. Williams has been running the pharmacy for the past 20 years. He points to big insurance companies for the drug store's demise stating, "One-hundred percent underpayment for medicine by insurance companies made it impossible to be a sustainable business." He wearily adds, "I'm not retiring but am tired of fighting with the insurance companies."
The store closing will impact thirteen employees. The records and prescriptions were sold to SaveMart as Williams believes they will "treat his customers the best." He plans on taking a break and is not sure what's next, but definitely wants to thank all his loyal customers, saying, "It was an honor and joy to fill prescriptions for Tuolumne County."
Williams explains more about his decision to close the pharmacy  in his letter below:
Closing January 26, 2017
For the last 39 years Bob's Greenley Pharmacy has operated using our motto 'We put you and your prescriptions first' as our guiding business philosophy. All of us at Bob's have felt that it was an honor and a joy to fill your prescriptions. Since 1978 Bob's Pharmacy has worked hard to give the highest personal service. The continual and deep declines in payments from insurance companies for prescriptions has led us to close our pharmacy at the end of this month, January 2017.
Nearly 90% of the prescriptions we fill at Bob's are paid by insurance companies. Over the last decade these insurance companies have cut payments for prescriptions with every new contract; every year. We were always given these lower contracts with a 'take or leave it' attitude and we were generally threatened with losing all customers of that insurance company if we didn't sign the lower contract. I have often said these tactics would make the mafia blush. Recently most insurance contracts were using pricing formulas that paid us the cost of the drug plus 1 or 2 dollars. In the last few years we began to see insurance companies using out of date or unrealistically low drug price lists that resulted in some prescriptions being paid below the cost of the drug. At first this happened once or twice a day. The number of prescriptions paid below cost has now risen to 20 or more a day. Another unfair practice we are beginning to see is part of our prescription payments being taken back by insurance companies months afterwards. Known as indirect fees or clawbacks, they make accounting difficult and result in more prescriptions being paid below cost. These deep declines in payments made it harder and harder to provide the high standard of service we felt our customers deserved.
It is our belief you should have your phone call answered directly by an employee whenever you call the pharmacy. We feel that there should be enough staff on hand to answer phone calls and to be available at the cash registers for customers who come in to pick up prescriptions. It is also our belief that our filling process should put your prescription first and provide you, your prescription in a prompt time. The growing decline in payment from insurance companies would have forced us to provide poorer service.
As an independently owned business Bob's Pharmacy always strived to earn your business. This desire provided you, our customers award-winning and great service.
Another unfair practice that hurt our business was losing customers and prescriptions to insurance companies who demand that their enrollees use mail order pharmacies. There may be no real cost savings to using mailorder. We see wasteful quantities mailed to customers of drugs that have been discontinued all the time, packages left out in the heat and many lost and missing orders. Often we had to fill small quantities for these missing mailorders which left us with odd quantities in our stock which we could never use. We know some insurance companies have direct ownership in these mailorder pharmacies. This was not a level field of competition. We also question the business philosophy of forcing customers to your pharmacy as opposed to earning their business.
Over the last 39 years, we have loved serving the people of Tuolumne County. We enjoyed providing great service. We feel all of our customers were part of the Bob's family. The times we were able to get some customer home quicker on a day they were sick by filling their prescription fast, or able to have one of our delivery drivers deliver a prescription to someone who couldn't get to the pharmacy, these are the memories that we will remember most. We enjoyed handing out countless Bob's sweatshirts and socks over the years. One of the best parts of owning Bob's Pharmacy was being a part of the community and being able to sponsor so many sports teams, charity events and youth programs over the years. Another positive aspect of owning Bob's was being able to work with so many wonderful employees over the years. I especially liked being able to provide the first working experience to so many young people.
As I said at the beginning it has been a joy and honor to fill your prescriptions here at Bob's Greenley Pharmacy. I thank all of you for your business over the years.