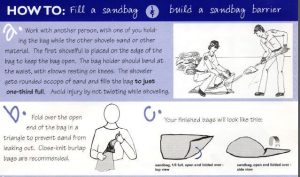 Sandbag diagram

View Photos
San Andreas, CA — With more nasty weather heading into the region, Calaveras County officials report they are still waiting on a shipment of bags and give an update regarding road closures.
Two shipments of sand have been delivered to Valley Springs at Vista Del Lago and Valley Springs Fitness Center. However, there are still no bags as county spokesperson Sharon Torrence explains, "We ordered sandbags over a week ago and they still have not arrived. They are not available due to the weather we had last week and the weather this week. There is obviously a shortage as we're still waiting for sandbags."
Additionally, several roads within remain closed and the county provided this list:
Road Closures:
Murphys Drive in Blue Lake Springs
Snow Shoe Thomson in Snow Shoe Springs
Hawver Rd, in Mt. Ranch
Roads Passable/with one lane open: –
Gwine Mine Rd, in Paloma, due to mud slide
Old Gulch Rd. off of Calveritas Rd, due to erosion
Sandbags can still be found at area retailers including hardware stores.