Update: Power Restored To Twain Harte Area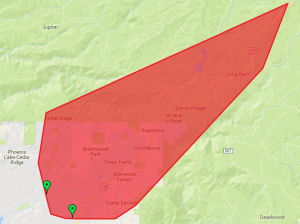 Twain Harte area Power Outage

View Photos
Update at 1:30 p.m.: PG&E has restored power to all of the more than 8,000 customers without electricity in the Twain Harte area. The final 40 customers that had remained without lights in the Sugar Pine area have them back on again.
Update at 12:05pm: PG&E reports that only around 40 PG&E customers in the greater Twain Harte region are still without electricity. The majority are situated in the Sugar Pine area, along Pine Cone Road, Pela Drive, Juniper Street and Black Oak Court. It is not immediately clear what caused the outage.
Original story posted at 11:30am: Twain Harte, CA — There is a wide scale power outage impacting 8,197 PG&E customers in the greater Twain Harte area.
It is stretching into communities like Brentwood Park, Sugar Pine, Confidence, Mi Wuk Village, Sierra Village and Long Barn. The outage occurred this morning at a time when heavy precipitation, including hail, was falling. What exactly caused the outage remains under investigation, and it is unclear when there will be full restoration. We'll pass along more information when it becomes available.