Landslide Blocks Cottonwood Road In Forest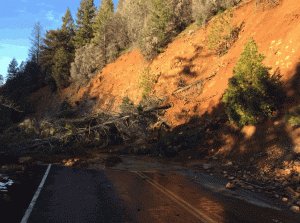 Landslide Along Cottonwood Road

View Photos
A stretch of Cottonwood Road in the Stanislaus National Forest is currently blocked due to a landslide.
Cottonwood Road, which stretches across the Mi-Wok and Groveland ranger districts, is impassable about a quarter mile east of the Clavey River Bridge.
Forest Service Engineer Tim Hughes indicates that it will be an extended period before the road is cleared. He says, "With another series of storms approaching the Forest, we believe it is not advisable to schedule work crews to clear this and the other debris on Cottonwood Road. Cottonwood Road is not maintained for winter driving and we do not advise traveling any of this route between River Ranch Campground and Cherry Lake. Snow, ice, rocks and landslides pose hazards to anyone passing the warning signs posted at each end of Cottonwood Road."
The road is also known as Forest Route 1NO4. We'll pass along more information when it becomes available.