Suspect Gives No Explanation For Vehicle Chase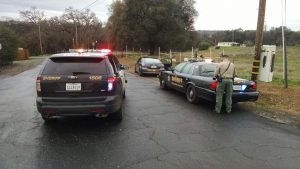 End of chase near the intersection of Bell Mooney and Jacksonville Road in Jamestown

View Photos
Jamestown, CA — The Tuolumne County Sheriff's Department reports that a deputy tried to pull over a vehicle in Jamestown when the driver took off.
The chase began just before 9:30 a.m. Wednesday on 7th Street near 5th Avenue. A 2008 Scion Coupe that had no front license plate prompting the deputy to initiate a traffic stop. Sheriff's officials report the driver, 26 year old James Romano of Sonora, instead hit the gas and a pursuit ensued.
Romano abruptly ended the chase when he stopped near the intersection of Bell Mooney and Jacksonville Road and gave himself up without further incident. Sgt. Andrea Benson indicates that Romano is an unlicensed driver and gave no reason for why he tried to evade deputies. She adds, "It was a friend's car so, the car did get towed, it was not stolen. He really did not give any other reason why he didn't stop."
Romano faces felony charges for evading and driving while unlicensed.