Shoplifting Led To Drug Charges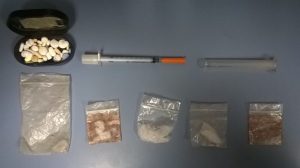 Drugs found on Shelman

View Photos
Sonora, CA – Not only are stolen items from the Sonora Grocery Outlet found in the woman's purse but narcotics as well.
Sonora Police officers approached 30-year-old Stephany Marie Shelman of Sonora in the parking lot of the retailer. She denied having taken any items from the store. Shelman also initially gave the officer a false name. Further questioning determined her true identity. During a search of Shelman's purse and her person, the officer discovered some stolen merchandise and multiple baggies of methamphetamine, Methadone and Oxycodone, a hypodermic needle and a meth-pipe.
Shelman was arrested and faces charges for theft, drugs and providing a false name to a peace officer. Her bail was set at $7,500.