Winter Storm Warning Issued For The Sierra Nevada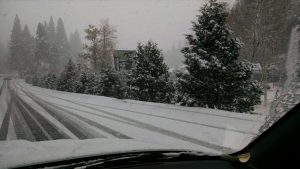 Snow on HWY4 in Arnold

View Photos
The National Weather Service has issued a Winter Storm Warning for the Sierra Nevada above 5,000 feet from 2 PM Wednesday to 2 PM Thursday.
Total snow accumulations of four to eight inches is forecast above 4,500 feet. Half-a-foot to one foot of snow is expected above 5,000 feet. Up to a foot-and-a-half of snow is likely above 7000 feet.
Snow will begin around 5,000 to 8,000 feet early Wednesday afternoon. Snowfall will become heavy at times Wednesday night with the snow level lowering to around 4,000 feet by mid-day Thursday.
The heavy snow will make many roads impassable and may produce power outages due to the weight of the snow on tree limbs and power lines. Strong winds will lead to blowing snow, reduced visibility and additional power outages.
Winds of twenty-five to thirty-five mph are forecast with gusts ranging from forty to sixty mph.
This is the first in a series of winter storms that will impact Northern California.
It will bring between three quarters and one-and-a-half inches of rainfall to the Northern San Joaquin Valley from mid-day Wednesday to mid-day Thursday. Winds gusts up to thirty mph are forecast for the Central Valley. Some Mother Lode Locations could see up to 3 inches of rainfall.
After a break on Thursday afternoon and evening another storm system will hit Northern California on Friday. This system will be similar to the previous system in precipitation amounts and wind, but will come with lower snow levels generally between 3000 and 4000 feet.
Another Pacific storm is forecast to move through around Sunday bringing still more rain, wind and mountain snow but with even lower snow levels between 2,000 and 3,000 feet.
Local flooding potential will return as well especially as rainfall accumulation totals rise with each storm. Those that may be impacted by this series of storms should continue to monitor the latest forecasts.
A Winter Storm Warning means severe winter weather conditions are expected or are occurring. Significant amounts of snow are forecast that will make travel dangerous. Only travel in an emergency. If you must travel, keep an extra flashlight, food and water in your vehicle in case of an emergency.