Winter Storm Watch Issued For the Sierra Nevada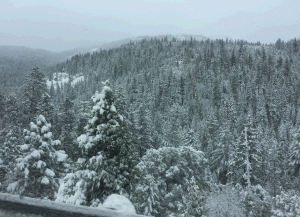 Snow In Sierra

View Photos
The National Weather Service has issued a Winter Storm Watch for the Sierra Nevada, which is in effect from Wednesday afternoon through Thursday morning.
This will be the first in a series of winter storms that will impact Northern California.
Snow levels are forecast to hover between 4,000 and 5,000 feet. Half-a-foot to a foot of snow is forecast above 4,500 feet, with over a foot possible along the higher peaks.
Travelers may experience hazardous travel conditions and long delays. Chain restrictions will be likely.
Additional winter storms are likely to bring heavy mountain snow later this week.
Currently. there are no restrictions up to the winter closure gates on Highway 108 (Sonora Pass), Highway 4 (Ebbetts Pass) and Highway 120 (Tioga Pass). Highway 88 Carson Pass is open with no restrictions.
A Winter Storm Watch means there is a potential for significant snow, sleet, or ice accumulations that may impact travel. Continue to monitor the latest forecasts.