Tree Mortality Grant Funding On Supervisors Agenda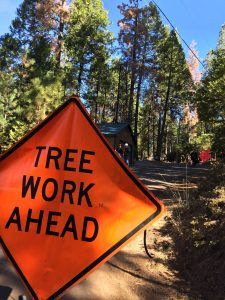 Tree Work sign

View Photos
Sonora, CA — Tuolumne County leaders will formally vote on accepting $2.4 million in grant money to benefit private property owners struggling to remove dead and dying trees.
It is on the agenda for Tuesday's meeting. The CAL Fire funding will be available to help remove hazard trees within 300 ft. of a habitable structure or to remove logs and debris within 300 ft. of a home. County staff is currently developing an application that the property owner must fill out to sign up for the program. Participants would pay a percentage of the cost of the tree removal based on the applicant's annual income.
In other business, at 11:30am the Supervisors will take time to pass a resolution honoring outgoing Community Resources Agency Director Bev Shane for her 36 years of service. Later in that afternoon the Supervisors will recess and then reconvene at 3pm for an official ribbon cutting at the new Tuolumne County Child and Family Visit Center at 101 Hospital Road in Sonora.
The regular session starts at 9am in the Board Chambers. You can watch live video of the meeting in the multimedia section of myMotherLode.com.