Vision Sonora Awards On Council Agenda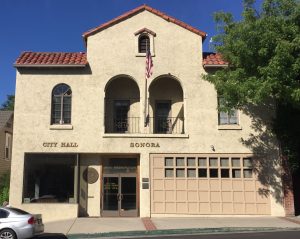 Sonora City Hall

View Photos
Sonora, CA — The Sonora City Council will hold its first meeting of 2017 on Tuesday.
Meetings are typically held on Mondays, but it will be the following day in recognition of Martin Luther King Jr. Day.
On the agenda is to recognize property owners that recently made improvements to their buildings. They include Dick and Hazel Mitchell for the property at 48 South Washington Street, Jeff and Gail Pedrick for 56 West Bradford Street and Steve and Stephanie Stewart for 91 North Washington Street. Vision Sonora Awards of Excellence are given to owners that take steps to invest in and make improvements to their properties
The council will also meet in closed session to discuss the ongoing property negotiations related to the purchase of Corner Gas at the intersection of Mono Way and Greenley Road. The property is needed in order for the city to widen the intersection. On Mother Lode Views this past weekend, City Administrator Tim Miller said the goal is to send the widening project out for bids in February, award a contract in March, and then begin construction in the spring. The property acquisition negotiations have been carried out in concurrence with the construction planning. Miller said the city continues to anticipate that the project will completed when Sonora Regional Medical Center opens its adjacent new cancer center and outpatient pavilion.
Tomorrow's closed session portion of the meeting starts at 4:30pm at City Hall with the open session at 5pm.