State Surveying Storm Damage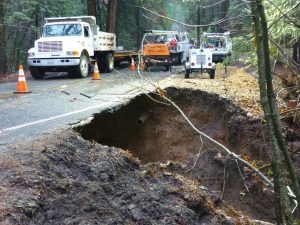 Kewin Mill Road Damage

View Photos
Sacramento, CA — County and state officials indicate that it is still too early to estimate the damage from the recent days of drenching weather that turned streets into rivers in Northern California.
On Friday crews used the dry conditions to clean debris and assess damage from the back-to-back systems that were fueled by an "atmospheric river."  The system delivered the heaviest rain in a decade to areas of Northern California and Nevada.
Kelly Huston, a deputy director with the Governor's Office of Emergency Services, says that counties are just starting the process of calculating costs and getting a total will take a little time. The government costs include damage to public property, including roads and levees, and pay for emergency staff, while private costs relate to damaged homes and loss of business, according to state officials.
As reported here Thursday, the Tuolumne County Board of Supervisors called an emergency meeting to declare a State of Emergency due to damage caused by the severe weather. Additionally, click here to find out all the damaged areas according to Calaveras County officials.