CAL Fire Director Honors Riggs With State Award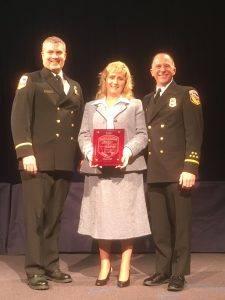 CAL Fire Tuolumne-Calaveras Unit Chief Josh White, Tuolumne County Deputy Administrator/OES Coordinator Tracie Riggs and CAL Fire Director Ken Pimlott at the 2017 CAL Fire Director's Awards

View Photos
Sonora, CA – CAL Fire has bestowed prestigious honors on a Tuolumne County executive.
Wednesday, during its annual CAL Fire Director's Awards reception, which recognizes outstanding service across the state both in-house and externally, CAL Fire Director Chief Ken Pimlott honored Tuolumne County Deputy Administrator and OES Coordinator Tracie Riggs with his Partnership Award for superior performance and outstanding contribution in cooperation with the California Department of Forestry and Fire Protection.
CAL Fire Tuolumne-Calaveras Unit Chief Josh White nominated Riggs, sharing he has been working closely in tandem with her since the Rim Fire disaster and now during the state's Tree Mortality Emergency. Her office leads local efforts and she also serves on the state task force. "She is absolutely so efficient and effective…she has an ability to motivate people but keep everything very friendly and is a great partner to work with," White states.
"There are a number of other counties that have reached out to Tracie [about tree mortality issues] to find out what Tuolumne County is doing," White continues. "Because of her leadership Tuolumne County is ahead of the curve…the first county to have their plan approved by the California Office of Emergency Services…one of the first steps towards getting some specific funding for the CA Disaster Act funding…the first county to have the CDA funding allocated."
White chuckles. "I know Tracie would say that is a partnership of everybody working together and I completely agree with her. But she is that one catalyst — I think [Tuolumne County Tree Mortality Project Manager] Mike Albrecht once described her as a spark plug that gets everyone going — and I was just happy that the Director recognized that and gave her the award."
Among those receiving similar honors from Chief Pimlott were deputy district attorney Andrew Aguilar, detective Arnold Van Lingen and fire investigator Fred Workman for their work leading to the conviction last summer of Jonathan Cohen, 45, of Poway, an arsonist linked to eight wildfires believed to have been setting blazes in San Diego's backcountry for years. Also recognized by Pimlott were firefighter academy instructor James Broshears of the Butte County Fire Safe Council and program manager Mina Threat of San Diego Marine Corps Community Services.