Washout Near Arnold Impacts Waterline, Travel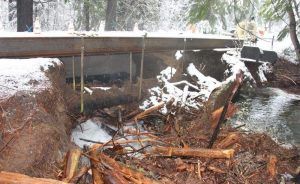 Temporary Fix of CCWD Pipeline break at Blagen Rd

View Photos
Arnold, CA — Wednesday's heavy rains washed out part of Blagen Road over Big Trees Creek, exposing and potentially threatening Arnold's main water supply.
According to Calaveras County Water District (CCWD) spokesperson Joel Metzger, when the creek waters overwhelmed the culvert under Blagen Road in White Pines where Big Trees Creek flows, it also washed out part of the roadway and surrounding earth that protected and supported a main stretch of the district's 12-inch pipeline.
"The pipeline was completely exposed and the [creek] water was rushing over and around that pipeline when the water was at the highest," Metzger recounts. Too, the pipeline was now vulnerable to a potential break from the mounting debris flow stacked up against the culvert's remains. So Wednesday night emergency crews  called in dropped a large metal beam over the exposed hole in the roadway and secured the pipeline to it with industrial straps.
Now, Metzger reports the debris flow is being monitored to avoid impacts to the exposed waterline as CCWD evaluates next steps for a more permanent repair.
'This is still a safe water supply," he emphasizes. "We have not actually had a break yet…There has been no problem with the water system at this point." Metzger adds, "One more thing to note is that we are bringing in a temporary bridge to put over the existing culvert and that is going to be [solely] for the CCWD's and county's use. The public is not going to be able to use this road. It will be closed until further notice."
To view a slideshow of photos showing the damage and temporary fix of the pipeline, click in the upper left image box.