Storm Concerns Include Missing Man, Murphys Creek Surge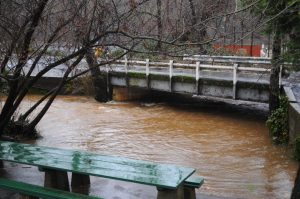 Murphys Creek at Algiers St., (file photo)

View Photos
San Andreas, CA — Add a missing person's report made during Monday's storm that apparently remains open and high flows at Murphys Creek to current storm-related concerns.
According to Calaveras County sheriff's officials, deputies responded to the 9000 block of Opal Lane in Jenny Lind, where family members reported that Julio Gonzales, 39, left his residence for work at approximately 6 o'clock Monday morning and had not been seen since. Driving an all-terrain vehicle (ATV), he had reportedly called his supervisor while en route to tell him that river waters had flooded a bridge on the property.
When Gonzales did not return home at 4:30 p.m. his family began searching for him across the property, which contains more than 80 acres of orchards. Calaveras County Search and Rescue was activated to assist in the search. While efforts were complicated by the wet weather and flooding Search and Rescue personnel were able to locate the ATV just after 10:30 Tuesday morning.
A call from Clarke Broadcasting to the sheriff's office Wednesday morning for an update on the missing man has not yet been returned. A description of Gonzales was released so that the public may be on the lookout for him. He is 5'3", 150 pounds, with brown hair and brown eyes and reportedly has numerous small scars on his arms.
Anyone with information regarding his whereabouts is asked to call the Calaveras County Sheriff's Office at 209 754-6500.
High Flow Conditions At Murphys Creek
Sheriff's officials are also reporting a high flow condition in Murphys Creek below the Murphys Afterbay, where there is approximately 125 CFS immediately below it. The flow increases downstream as small tributaries converge with the creek and it will likely continue to increase as the rain continues.
While they stress there is no dam failure and no immediate emergency at this point people should stay a safe distance from the creek and residents along it should continue to monitor its level in relation to their homes.
As previously reported here, sections of Algiers Street in downtown Murphys were closed yesterday due to creek flooding. According to Calaveras County spokesperson Sharon Torrence there is no official update on that status.
Torrence adds that sandbag supplies, currently depleted at county government locations, will hopefully be restocked by the next storm event.
In the meantime, she advises residents to check at local hardware stores and lumber yards. "They may want to consider using wattle, which might be more readily available and might even be a more economical option," she offers.
A special thanks to community news partner Bob Bliss for sending in the storm photos of Murphys Creek (clickable in the left image box).