Yosemite's El Portal and Hetch Hetchy Roads Re-open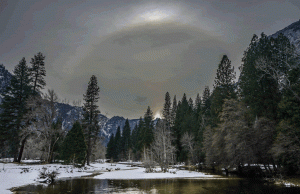 Winter Weather In Yosemite

View Photos
Yosemite National Park — Two routes into Yosemite National Park are now back in operation following the clearing of rockfalls from recent storms.
Park officials report that El Portal Road/Highway 140 into Yosemite National Park, which opened briefly Tuesday afternoon and closed at 6 p.m. until further assessments were made this morning, has re-opened to traffic. Additionally, Hetch Hetchy Road is now open.
While the roads are currently clear, visitors are asked to not stop along the way to Yosemite Valley and to be aware that, in the event of hazardous driving conditions, they may close again at any time. Park visitors are asked to be aware of current ground saturation; potential wet and icy road conditions; possible rockfall and debris — and to carry tire chains as chain controls may be implemented at any time.
As earlier reported, overnight lodging and food services were to be restored today and officials confirm that they are, indeed, open for business. The campgrounds in Yosemite Valley are also in operation.