Yosemite Officials Update Access, Conditions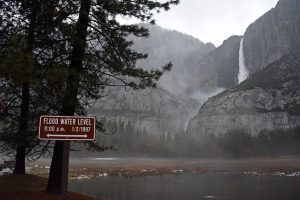 File Photo: Heavy Rain In Yosemite

View Photos
Yosemite National Park – Access into Yosemite National Park is improving somewhat with the clearing of a rockfall this afternoon.
The incident caused El Portal Road/Highway 140 to be blocked to traffic since early Sunday.
Park officials anticipate this roadway to remain open to vehicles under traffic controls until 6 this evening; however, due to weather and additional rockfall concerns, it will not reopen until early morning assessments are made that will determine if the road can reopen. Weather conditions indicate that continued wet weather within the park is probable for the next several days.
Due to another rockfall that has yet to be cleared, Hetch Hetchy Road remains closed. Visitors may currently access Yosemite Valley via the Big Oak Flat Road/Highway 120 and the Wawona Road/Highway 41 but must carry tire chains as chain control restrictions can be implemented at any time.
Limited visitor services inside Yosemite Valley are being offered today. Overnight accommodations and commercial services under the park concessioner's operation should fully resume Wednesday, say park officials. The campgrounds in Yosemite Valley are currently open.
The Merced River in Yosemite Valley reached flood stage — above ten feet — at Pohono Bridge Sunday afternoon and the river peaked at 12.7 feet at early Monday. Although no major flooding occurred, impacts to park roads and infrastructure as well as visitor facilities continues being assessed. Due to significant rainfall over the past month ground saturation-related hazards remain a concern, so park visitors should be aware of potential wet and icy road conditions, more rockfalls and other roadway debris.