Floods And High Wind Warning For The Mother Lode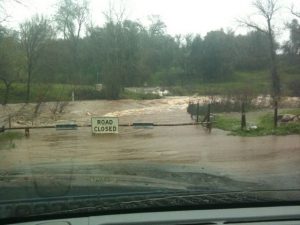 Flood Waters

View Photos
A weaker and colder Atmospheric River will bring another period of moderate to heavy rain, high winds and snow Tuesday into Wednesday.
The National Weather Service has issued a High Wind Warning for the Mother Lode for Tuesday from 10 AM until midnight.
Winds of thirty to forty mph are expected with gusts ranging from fifty to sixty mph.
Tree damage with power outages are probable.
The Flood Warning for small streams in Tuolumne and Calaveras Counties remains in effect until 6 PM Wednesday.
The Flood Warning for urban area and small streams in southwestern Calaveras County has been extended until 9 PM Wednesday.
A Flood Watch is in effect for the Mother Lode and the Northern San Joaquin Valley through Wednesday evening.
Rainfall totals from tonight through Wednesday are expected to range from one to three inches in the Central Valley and two to nine inches in the Mother Lode and the Sierra Nevada below 6,000 feet.
Turn around, don`t drown when encountering flooded roads. Most flood deaths occur in vehicles.
A Winter Storm Warning remains in effect for the Sierra Nevada until 10 AM Thursday.
Snow levels are expected to generally be around 4,500 to 6,000 feet Tuesday into Wednesday, possibly lowering to around 2500 feet by Thursday morning.
Total snow accumulations will range from one to seven feet above the 4,500 foot elevation.
Winds of fifteen to twenty-five mph are expected with gusts ranging from forty to fifty mph.
Drier weather is forecast Friday into the weekend.
A Winter Storm Warning means severe winter weather conditions are expected or are occurring. Significant amounts of snow and strong winds are forecast that will make travel dangerous. Only travel in an emergency. If you must travel, keep an extra flashlight, food, and water in your vehicle in case of an emergency.
A Flood Warning means that flooding is imminent or is occurring. All interested parties should take necessary precautions immediately.
A Flash Flood Watch means that conditions may develop that lead to flash flooding. Flash flooding is a very dangerous situation. You should monitor later forecasts and be prepared to take action should flash flood warnings be issued.
A Flood Watch means there is a potential for flooding based on current forecasts. You should monitor the latest forecasts and be alert for possible flood warnings. Those living in areas prone to flooding should be prepared to take action should flooding develop.
A High Wind Warning means a hazardous high wind event is expected or occurring. Sustained wind speeds of at least forty mph or gusts of fifty-eight mph or more can lead to property damage.