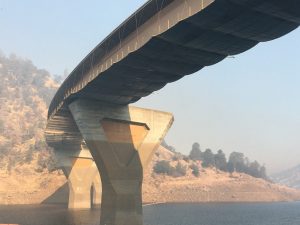 Highway 120 safe span under the James E. Roberts Bridge

View Photos
Groveland, CA – While typically open on the weekends during the ongoing James E. Roberts Bridge Project, Caltrans reports the bridge will be closed Friday.
Due to the heavy rain and snow that fell this week in Tuolumne County, Caltrans is adjusting the construction and bridge closure schedule. Beginning Friday at 5 p.m. until 7:00 a.m. on Saturday motorists are asked to take alternate routes during this period. The bridge will remain opened to travelers on Saturday into Sunday. It will be close once again on Sunday from 5 p.m. to 7 a.m. That schedule will run through Friday. During the day there will be one-way traffic control resulting in fifteen minute delays that will continue into November.
This work will be done per the schedule weather permitting, which could change with the stormy weather heading into the region this weekend and sticking around next week.
The $20.8 million bridge project will replace the bridge deck, and retrofit the structure for an additional 40 years of service, according to Caltrans.