Atmospheric River To Impact The Mother Lode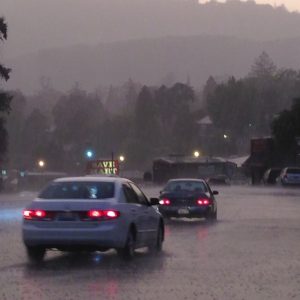 Rainfall makes for possible slick roadways

View Photos
An Atmospheric River, a narrow corridor of concentrated moisture, will impact Northern California over the weekend.
A Flash Flood Watch is in effect for the Sierra Nevada from late tonight through Monday afternoon.
The National Weather Service has also issued a Winter Weather Advisory for the Sierra Nevada, which is in effect from 4 AM to 10 PM Saturday.
Additionally, a Flood Watch is in effect for the Mother Lode and the Northern San Joaquin Valley from Saturday afternoon through Wednesday morning.
Snow will begin early Saturday morning, increasing late morning into the afternoon. Snow levels will start out fairly low, then increase during the day. By late Saturday evening, snow levels will climb above 8,000 feet where winter weather impacts will be minimal. The snow levels will remain above 8,000 feet on Sunday.
A couple of inches of snow is possible down to 2000 feet. Five inches to two feet of total snow accumulation is expected above 5000 feet.
Wind gusts over thirty mph at times will bring periods of white out conditions.
With snow levels that high, the combination of heavy rain, snowmelt and runoff may cause serious flooding of rivers and small streams over the higher terrain. Flash Flooding is possible in the vicinity of wildfire burn scars.
The upper Merced River in Yosemite National Park is forecast to crest well above flood stage by Sunday morning and remain above flood stage through Sunday night. Rapid rises are likely along other rivers and small streams this weekend. Mud slides, rock slides and debris flows are possible along with some road closures.
Another impact from rain saturated soil are fallen trees in the foothills and higher elevations of the Sierra, along with regional power outages.
Persons living near rivers and small streams should closely monitor water levels this weekend and be prepared to move to higher ground if flooding becomes imminent. If you live in a normally flood prone area, have an evacuation plan ready should flooding become a threat to your home or property.
Rainfall totals from Saturday through Monday are expected to range from two to six inches in the Central Valley, three to eight inches in the Mother Lode and seven to fourteen inches of rain in the Sierra Nevada. Precipitation amounts this high have not been seen since December 2005.
Avoid driving through unknown depths of water. Turn around, don`t drown.
A second Atmospheric River may occur Tuesday into Wednesday, bringing an additional one to four inches in the lower elevations and three to eight inches in the Sierra Nevada.
A Flash Flood Watch means that conditions may develop that lead to flash flooding. Flash flooding is a very dangerous situation. You should monitor the later forecasts and be prepared to take action should Flash Flood Warnings be issued.
A Winter Weather Advisory means that periods of snow will cause travel difficulties. Be prepared for snow covered roads and limited visibilities and use caution while driving.
A Flood Watch means there is a potential for flooding based on current forecasts. Those living in areas prone to flooding should be prepared to take action should flooding develop.